VanPodFest Trivia Night - At Home Edition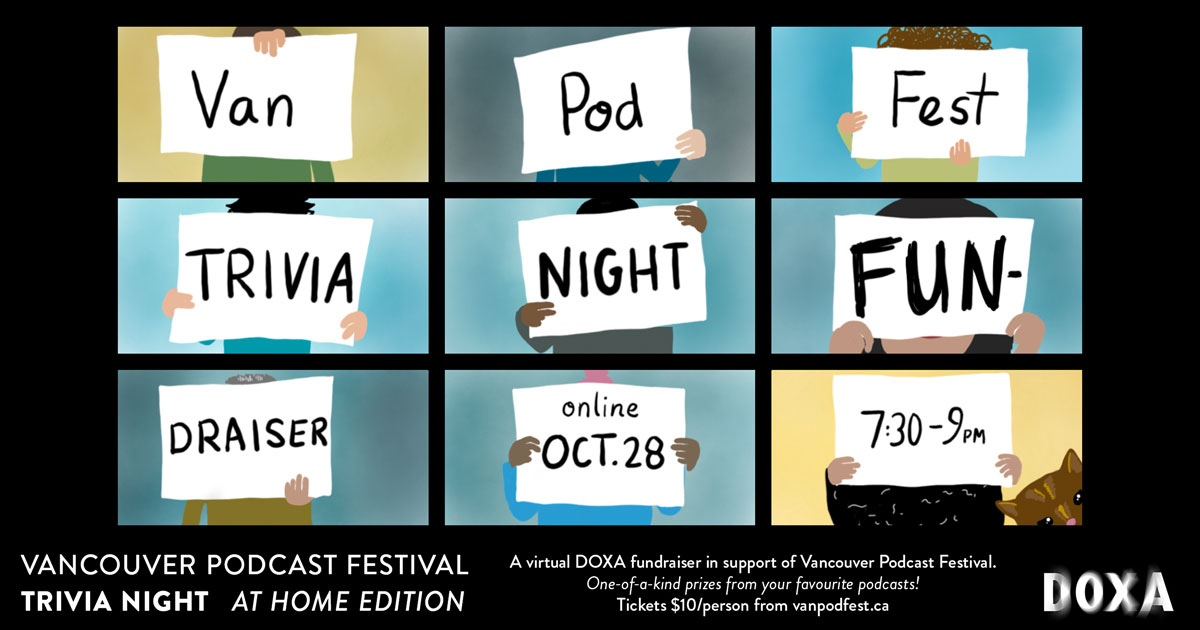 Calling all podcast lovers, pop culture fanatics, and trivia titans near and far!
Join co-hosts Hannah McGregor (Secret Feminist Agenda, Witch, Please), Lisa Christiansen (Pop This!), and Andrea Warner (Pop This! and CBC's Pop Chat) on Wednesday, October 28th for an evening of online trivia by Quiz Master Carlos to raise money for DOXA in support of Vancouver Podcast Festival. 
When: Wednesday, Oct. 28, 2020, 7:30pm-9pm
Where: Online!
Tickets: $10/person, click here to purchase.
Ticket sales will close at 6:30 PM on October 28th!
Winners receive bragging rights AND one-of-a-kind, personalized prizes from your favourite podcasts, including Dark Poutine, This Sounds Serious, Witch, Please, Pop This! and more.
VanPodFest Trivia Night At Home Edition - FAQ
How will it work? Easily. We hope. Our resident quiz master, Carlos, has crafted three rounds of questions: general pop culture, podcasts, and Halloween! We'll all hang out together via Zoom and you'll answer questions via Google Forms.
What tech do I need? A smart phone, tablet, laptop, or desktop computer should suffice. Ideally, two of those in combination with each other will make for the optimal experience. Zoom is meant for virtual meetings, so it works best with a camera and a microphone or headphones with a mic (ear pods, etc). If you already have Zoom, great. But if you don't, please don't worry. You do not have to download Zoom, but it will prompt you to do so. Click the link to download and then cancel it (possibly twice) so that you may use it in your browser window. Google Forms does not require a Google account. You will just be emailed a link to the Zoom meeting and the Google Form the day before the event.
What will happen that night? Everyone will open up the emails they received the day before with the relevant links. We'll all hang out in the Zoom meeting starting at 7:30pm. We will begin the quiz at 7:50pm. There will be three rounds of trivia and a short break between each round. The event will end by 9pm at the latest.
Should I dress up? Yes! We highly encourage Halloween costumes since most of us are probably not (we hope) heading out to major parties in the pandemic.
Can we do teams? We're doing individual scoring with multiple choice answers, and the prizes are quite individual as well. But if you want to make your own team, go for it!
What do I win? One-of-a-kind, personalized prizes from your favourite podcasts, including The Allusionist, Dark Poutine, This Sounds Serious, Witch, Please, Pop This! and more.
Ok, but what does that mean? Example: If you win the Dark Poutine prize, Mike Browne will record a minute-long clip of your choosing. You provide the script (as long as it's not gross or inappropriate or illegal), he professionally records the clip, and we send you your own personalized audio file. Basically like using Cameo, but podcast style.